Test flight of the RigidII (Speed) and the new engine
Today it was nice weather for a test flight in the garden. The new engine in the rigid and the retractable landing gear needed it's first test flight.
As expected from this insane power machine it took off easily and was very stable. I switched through all the flight phases (low-mid-high) RPM and the RigidII behaved perfectly. Only problem, it wants to FLY and is not made for hoovering.
In about 7-8 minutes I landed and saw that the battery was empty. Now I only have one battery for test and practice flights but that is not enough for practicing for the global3D speed competition. But let's first wait for better weather. The rumors are there that new 5100mAh and 100C batteries will be on the marked soon ;-). Yeah that is what I need.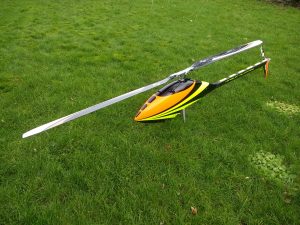 The flight went perfect, all 3 flight phases quit and very stable. I forgot to put a timer on my transmitter (don't have telemetry yet), so after some flying I thought let's stop and start charging the batteries..
My fault, the batteries had only 4% left. That is not good.. or just for that one time it is oke.. Charging the 14s in pairs 2x 7s I can charge them with 8Amps! That is not even 1C due to that the parralel capacity is 2x4400mAh = 8800mAh => 8,8Amps equals 1C.
The 4% rest capacity is true.. The charger charged 8610 mAh in to the batterie! I really need to setup the TIMER on my remote control!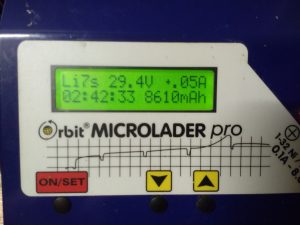 But at the end, the hoover flight in the garden was great, can not wait the let the beast go loss on the flight field in Enkhuizen.