Vstabi V2
When all the RC-helicopters were still flying the Bell-Hiller rotor head I got one of the first series of the Vstabi 2-axes version. Being a pioneer of the Vstabi system I got this one directly from Mr. Vstabi ;-). It was at that time a complex system where an addition tail gyro was still required. I am still looking for some old pictures where this Vstabi V2 was build in my Three Dee MP-e.
Additionally to measure and "feel" of the helicopter was flying forwards it used an air pressure sensor. This sensor was also available in the V3 but the got unnecessary because the algorithm got more efficient.
Vstabi V3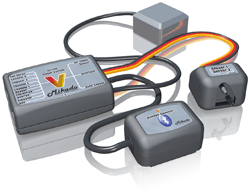 This the Vstabi which uses an aluminium sensor block and was the first batch which came under the flag of Mikado helicopters. The interface and setup-up tall had made a big step forward so that it got accessible for a bigger public. International everybody got excited and interested in that time in the new concept of RC-helicopters namely :flybareless rotor head with Vstabi. The brand Mikado and Vstabi got international recognition (Mikado was from origin already a pioneer with only electric helicopters) but the combination was and is still a big success. I still have a V4 aluminium sensor Vstabi. And yes I will keep this. Every time when I want to change the setup it is a small challenge to get the serial interface back to work. But in Tips and Tricks I put my own reminder.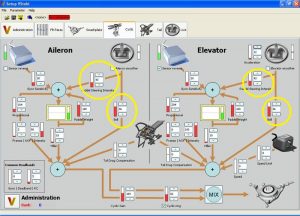 This Version V4 is still flying in the Three Dee MP-e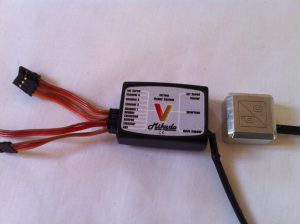 Vstabi V4
The Vstabi V4 was the introduction of the black sensor case. New SSM element where used with a higher precission and better noise reduction. And from this edition the Vstabi came in 2 forms. The standard Vstabi with external sensor and the Vstabi-mini with sensor and connections etc all in one casing.
Vstabi V5
New sensors technology, new algorithm and a better setup wizard have set again a higher standard for the RC-helicopter community. With the Vstabi black and Vstabi Blue edition. (the back started with software V4 and could be updated  to V5 and the blue line started with new and better software directly from software V5).
Vstabi Neo
More info will come.. Page is still under construction.