The Henseleit Three Dee Rigid II, also called TDR II and TDS where the S stands for Speed, is a machine which can be compared witch a Swiss watch in terms of:
compact design
precision and detailed design
robustness
unique in it's class (700-800 size) under 6 kg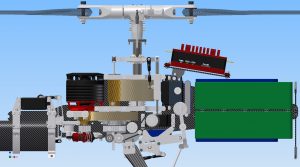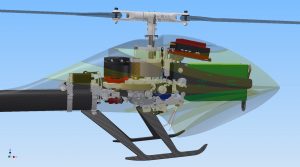 This machine is sort of Jan Henseleit (the owner / inventor / creator of Henseleit Helicopters) passion of making extreme machines and his eager of make the ultimate speed machine. Jan was always ahead in time with his helicopter designs but this was his real second attempt of a speed RC-helicopter made by his hands.
New about this machine is the extreme carbon chassis with big gear which could hold 15 kWatt of motor energie. (the basic motor already capable of produces 5 kWatt continuously). I am thinking to upscale the current Kontronik pyro 800-48 to a pyro 900 which can produce 7kWatt continuously and should give me some advantage in the speed light competition. But I know it is already possible to fit a Scorpion or Xnova engine in this machine which should be able to produce 10kWatt!!!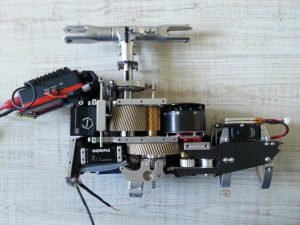 My rigid II has the following setup:
– Motor: Pyro 800-48 Henseleit edition
– Speedcontroller: KONTRONIK COOL KOSMIK 200 HV
– Battary: 2x 7S SLS APL Magnum 4400mAh
– Engine gear: 18 tooth
– Swashplate servo's: Futaba BLS 175SV S Bus
– Tail servo: Futaba BLS 256SV S Bus
– Betriebsspannung Servos: 8V
– Flybareless System: Vstabi Neo 6 .1
– Main rotor blades: Rotortech 810mm
– Tail rotor blades: Xblades x115
– Flight style: Soft 3D, Speed flight but more often just FUN.
Which results in this beautiful machine
When just flying for fun I will use the fixed landing gear, but at shows and or speed contest the fixed landing gear can be changed for a retractable landing gear, this does not only reduces the air drag but looks very cool!
This is my Rigid II but I think it show how the retracts work. Later on I make a good movie of my Rigid II.