Which new transmitter to choose for using telemetry?
Lately a friend of ours was searching for a transmitter for her son, having no background in radio controlled models or anything that had to do with it – you could say she just found out transmitters existed. In her words, she was looking for "that-thing-that-controls-the-airplane-flying-in-the-sky" and while she said that she tried her best to use her fingers and hands to describe the buttons. But how do you go about choosing a transmitter? Which features do you need?
Currently I use the Graupner MX-22 with a 35Mhz modus (only for old models) but most commonly the 2,4Ghz FASST adapter from Futaba for all my RC-helicopter and RC-planes. The remote control is at least 15 years old but still works perfectly fine. A Graupner transmitter is known in Model Aircraft clubs and I only have positive experience with it. However, in the last decade a lot has changed on transmitter technology. The new Henseleit RigidII is able to push its speed to the limit and for this, it would be nice to have a feature to monitor certain critical components during flight, so this is something I am searching for now. Telemetry systems are able to provide the means to accurately measure certain parameters of your model during flight.
Possible transmitters which use telemetry
Doing some research on the internet it narrows the choice of transmitters for me, I like transmitters which I hold in my hands and not pult transmitters. There are of course much more transmitter types and brands (Futaba, Multiplex, Spectrum etc) but I have limited my research to the brands I am interested in and which I am familiar with:
Graupner MZ24 PRO
The Graupner MZ24 PRO is also available for about 350 Euro if you google for 10 minutes! The system uses a proven concept of Graupner. I have a lot of experience with this brand and it is a brand of choice among RC pilots. Also, as an RC flight instructor it has an easy setup for the model and transmitter.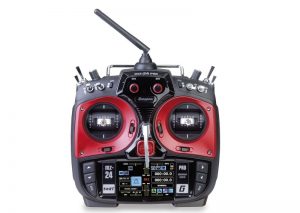 Vstabi VControl
The Vstabi VControl is a new RC control, its advantage is:
Perfect combination using the Vstabi Neo, you can setup the complete helicopter Vstabi without extra tools;
The Vstabi Neo is also your receiver.
This new product of Mikado is in line with the Vstabi development. They introduced a new concept (at least new for me) of setting up your model specification in the receiver and not in the transmitter. With this you can handover your model to others and they can fly it on their own preferred transmitter settings without copying and changing parameters in your own transmitter. Moreover, one of the unique selling points is the connection with Vstabi and its telemetry. A great transmitter and real thinking forward!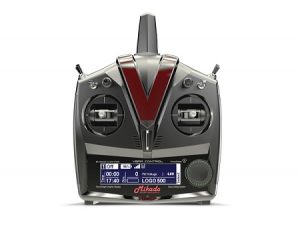 Frsky
The Frsky is a RC controller which can be updated to use OpenTX. The open source community for this controller makes the transmitter a preferred choice among many RC users. A lot and even more options than you would ever need are available. I never had my hands on this transmitter but a lot of positive feedback is found on forums. I want to get my hands on these transmitters and actually feel how they feel in my hands and how the menu's / settings are. Big advantage is the flexibility that it supports the most common TX protocols so you can use different brand of receivers. Great concept.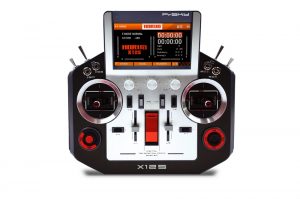 Jeti
Jeti with it's DS-16 is a great RC system. I love the design but the price is way out of range of all other systems – in my opinion. It is made out of a full aluminum block and has a very smooth design. For me this transmitter is the ultimate transmitter in design and features. The price, on the other hand, is extremely high compared to the other brands. A lot of options and flexible setup possibilities make it a transmitter you can setup to your own specifications.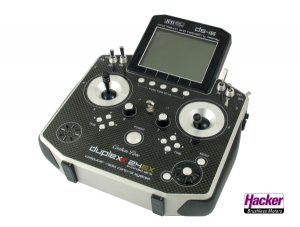 Hot news.. Graupner launched his Graupner MZ-32 this week. This seems a fair and good competitor for the Graupner MZ-24 PRO. The retail price is set to 999,99 euro.. For me right now, just wow and waiting to see hand hold it in my hands!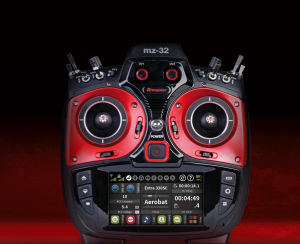 Why telemetry?
One of the fundamental challenges of flying RC aircraft is that you are separated from the machine you are controlling. You must assess the health and status of your vehicle from a distance using only limited visual and aural cues – rarely an easy thing to do. Sometimes the first symptom of a failing system is a trail of smoke that inevitably leads to the ground.
RC telemetry systems provide the means to accurately gauge certain parameters of your model during flight. Think of it as a remote dashboard. Do you want to know:
batteries produce about 200-300 Amps (peak)
Speed controller has to  manage 6kW or more!
And some additional measurements like:
how high is my helicopter
how fast is it going and max speed
how hot your motor is running?
and how hot your speed controller is?
This is all now possible using telemetry. By setting alarms on specifiek pre-determed values (like battery cell voltage to 3,7 Volt) to prevent damaging your expensive battery during flight.
Telemetry devices can provide those things and much more information to you as a pilot on the ground.
On other option for my Graupner MX-22 is to use an additional module for telemetry: The Iisi Cockpit V2 . With this module which could be mounted on top of your transmitter can send the specifiek data from the RC-plane back to you in a clear and large screen. With this no new transmitter is needed only this big screen and some unit is the Rigid-2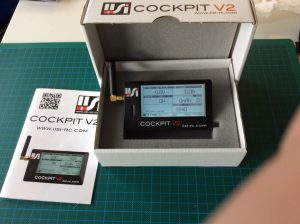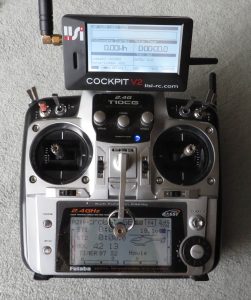 All of these RC-systems in combination with the S32 Jlog3 would enhance the use of telemetry and analysis of your flight data. I don't yet have any experience with this right now but I will use it when a new RC-transmitter is chosen.