They say…Speed kills, but with skills it thrills.
I have spent all winter practicing and finding the correct setup for the Rigid2. Flying in the Netherlands during the winter is not really a piece of cake with the harsh winds and ice cold on your finger tips. The first week of +25 degrees Celsius was promised, clear skies and little wind – it was time for the next level. The governor was set from 60% to 75% and I was going to see how the helicopter performs under load!
Training setup:
Henseleit Rigid2 standard config
Pyro 850-50 Competition / 18Z gear

Later 20Z gear is already in order for more headspead

Kontronik Kosmik Cool 200
810mm RotorTech blades
2x 7s SLS APL MAGNUM 4400 mAh  40C
Vstabi Neo 6.1
Graupner MX-22 with 2,4 Ghz FUTABA FASST

Transmitter old-school with no telemetry!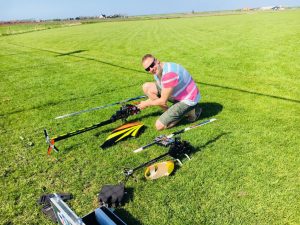 The helicopter flight was perfect. I have a personal limitation when it comes to flying, when I fly creative 3D  figures, I do these on my right side (due to the position of the sun at the flight field) and when flying for pure speed I am thus also forced to flying on my left side (where the sun is positioned). I still have to get used to the feeling on flying on my left side. Planning a few hours of extra practice to get this under control and I practice mainly with the Logo 400SE.
To give you a preview and a sneak peak at the thrill of speed, I made a short movie. For the time being, I am making regular turns (180 degree tail turn), and when this is under control I will start to make the cubane-8 (half loop). Firstly, I want to make sure I have 100% control on the speed flight and visibility of the helicopter. Then, in a couple of weeks, get a hang on the turns and head speed shall be increased.
Once I enjoyed the weather and some beautiful flight, I checked the Lipo's with the logfile analyzer to see if the Lipo's were still in good shape. When setting the governor to 75% and performing speed flights results in the following graph: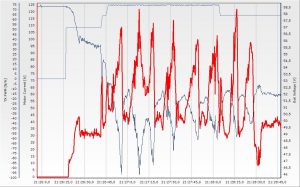 Analyzing the logfile shows
Peak currents of 120 Amp (this is perfect)
Voltage drops at the 120 Amp peak are extreme, 3.3 Volt / cell that is far to low
Average voltage of the Lipo cells under load is 3.7 Volt
Conclusion: The current 14s Lipo cells are at their end of life. They are fine for normal fun flight but for speed not suited anymore. Dilemma, which Lipo's to buy?
7s APL MAGNUM 4400mAh 832 gram -> 132,10 Euro
7s APL MAGNUM 5000mAh 978 gram -> 152,88 Euro
7s QUANTUM 65C 4500mAh 935 gram -> 135,00 Euro
7s QUANTUM 65C 5000mAh 1066 gram -> 152,00 Euro
5s + 2s SPEED limited edition 5100mAh -> xxx Euro?

These should be the best!
or the hobby-king:
7s Turnigy Heavy duty 65C 5000mAh -> 45 Euro

Maybe as an extra training and FUN pack?