New high current Lipo's are ordered.
Every flight with the TDR II, I gain more confidence to achieve more power out of the machine. More speed and more maneuverability.  On the first sunny day in spring the governor head speed controller was set to 75% (85% is maximum and I noticed that the machine did not gain the amount  of power that I had expected. Therefore the flight log of the speed controller was analyzed and what I discovered is that in full "throttle" the battery voltage dropped to 3.2 Volt which is far too low. The voltage of each individual lipo cell should not get lower as 3.6 Volt in any condition, a dip to 3.4 could be acceptable but definitely not lower.t
I was already searching the internet for new battery packs since I am only able to fly 4 to 5 minutes in one go and afterwards have to recharge the packs, which could take up to an hour.  Thus, a  second battery back was already on my wish list. My choice was narrowed to either SLS lipo's or the Turnigy Heavy duty cells. However, both were not available, so my patience was being tested and I had to wait until….
The new SPEED lipo's of SLS  were available. These are the ultimate lipo cells for the TDR II when  demanding maximum power. Only not in 7s configuration. This I have to do myself, so I bought 2x 2s and 2x 5s. Pairing them up with 2x(2s+5s) gives me the wanted 7s setup!
Technical Data:

Voltage: 25,9V
Configuration: 7S1P
Capacity: 5100mAh
Continously Discharge: max. 70C (357A)
Burst Discharge: max. 140C (714A)
Charge: max. 4C (20,4A)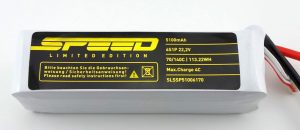 This would, in theory, be a continuous request of 9,2 kW for 52 seconds or 18,5 kW peak/maximum power for 26 seconds and then the battery is emptied until a dangerous 0%.  Yes and then the battery is at 0% and completely empty. Therefor this is just a theory!
Now  I am waiting for the new Lipo's to arrive so that I can build them together and mount them in the helicopter . This will be in the next blog.